AGADIR PORT
Location : 30-25'N-9-48'O
Vocation : Trade, fishing and boating
Depth : 8m to 15m deep
1 Coal, Citrus and Primers, Divers, Long Cruises : 500 m
Draught : 10.5 m
2 Long oil wharf : 64 m
Draught : 8 m
3 Cereals, Minerals, Food Liquid Bulk, Long Cruises : 320 m
Draught : 15 m
4 Containers, Long cruises : 300 m
Draught : 10.5 m
5 Roulier, Citrus and Primers, Divers, Long Cruises : 160 m
Draught : 10.5 m
Median : 68 ha
Water : 50 ha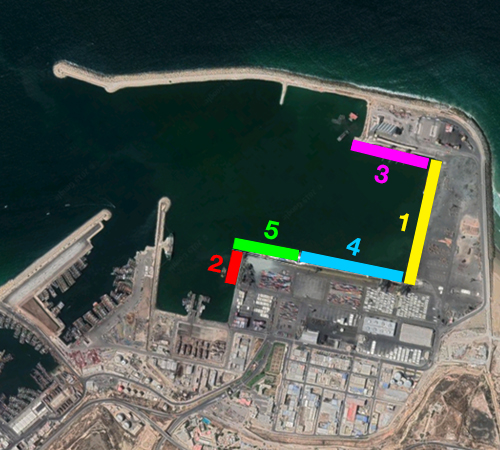 Casablanca port
Location : 33-36'N-7-37'O
Vocation : Trade, fishing, ship repair and boating.
Water drawing : 7m to 14m deep.
Terminals
An East Container Terminal
60 ha area;
600 m wharf at a depth of 12 m;
8 wharf gantries;
3,000 m of railway;
Capacity of 700,000 TEUs/year (Equivalent Twenty Feet).
A container terminal
30 ha area;
700 m wharf at a depth of 9.2 m.
3 wharf gantries;
10 RTG (Rubber Wheeled Gantry Crane);
Capacity of 300,000 TEUs/year.
A miscellaneous goods terminal
30 ha area;
1500 m wharf from 9m to 10m deep
5 hectares of storage area;
38 dock cranes.
A miscellaneous cargo terminal
20 ha area;
500 m wharf 8 m deep;
3 mobile cranes.
A mineral terminal
10 ha area
2 MT treatment (Millions of Tons)
700m wharf at 10m deep
2 dumpster gantries.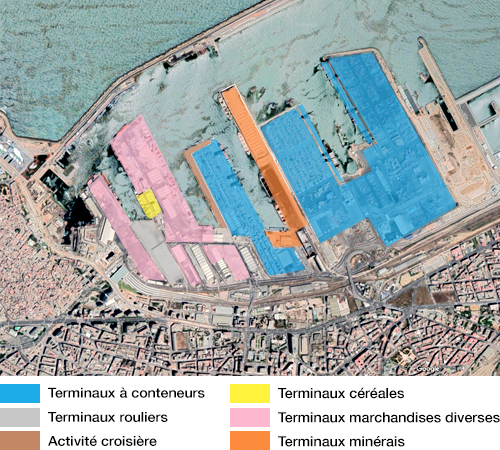 Two roller terminals
12 ha area;
2 unloading ramps with a capacity of 100 T.
A valet terminal
Ground area of approximately 20,000 square metres;
Covered area in the order of 75,000 square meters;
Storage capacity of 6,000 units.
A rust-driving terminal
10 ha area;
1 unloading ramp with a capacity of 100 T.
A terminal operated by OCP
7 ha area;
Processing capacity of 10 MT (phosphates);
600 m wharf at a depth of 12 m;
4 dock ganteries.
Dakhla port
Location : 23-40'N-15-55'O
Vocation : trade and fishing
Road service : National Highway 1 linking Laâyoune to Lagouira
Air service : Dakhla airport located about 9 km from the port
Total port area : 2 ha
Trade area granted to Marsa Morocco :
4 berths;
300 ml wharf at -8 hydro;
270 ml wharf at -6 hydro;
Ramp ro-ro from 21 ml to -6 hydro;
5.5 hectares of solid land;
Water and electricity distribution networks.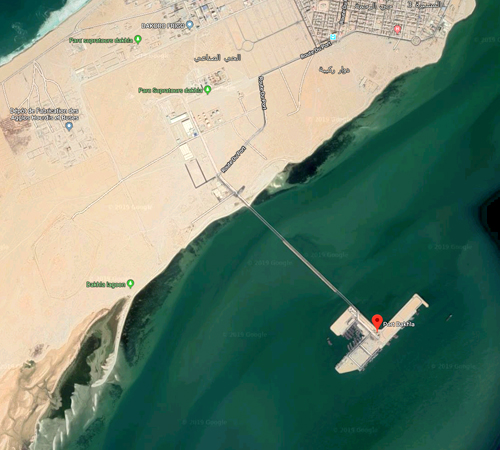 Jorf Lasfar
The port of Jorf Lasfar is a conventional port as well as serving as a port for ore shipping, located 17 km from El Jadida and 120 km from Casablanca. OCP plants, a thermal power plant, and hydrocarbon depot units are located nearby.
Location : 33°7'N-8°38'O
Vocation : Trade and Fishing
2 Gates : North and South :
The first gate : road and rail access from the south;
The second gate : road access from the North.
Road access :
Rural Route 301 between El Jadida and Safi
Rural road #316
National road #1
Rail connection : Nouasseur-Jorf Lasfar.
Infrastructures :
Berthing docks : 2400 Linear Meter​;
Draught : between 5 and 15.6 meters deep;
Platforms : 110 ha.
Quays : 157 LM;
Draught : 4 meters deep and 5 meters deep​;
Platforms :
1.4 ha (including 1.25 ha in use and 0.15 ha not in use).
12 specialized piers totaling 2500 LM;
110 ha of platforms;
1 310 LM multipurpose terminal with 9.3 ha of platforms;
1 Ro/Ro ramp (100 tonnes);
Water, electric power, telephone and sanitation networks;
9600 m² of covered storerooms and warehouses;
Two warehouses of approximately 20 000 m² for storing 90,000 tonnes of solid sulfur;
Two hangars for the import of cereal products with a 120 000 tonnes capacity;
Buildings for the Harbormaster's office and stevedoring services;
An office complex for port users;
7 Medium voltage substations.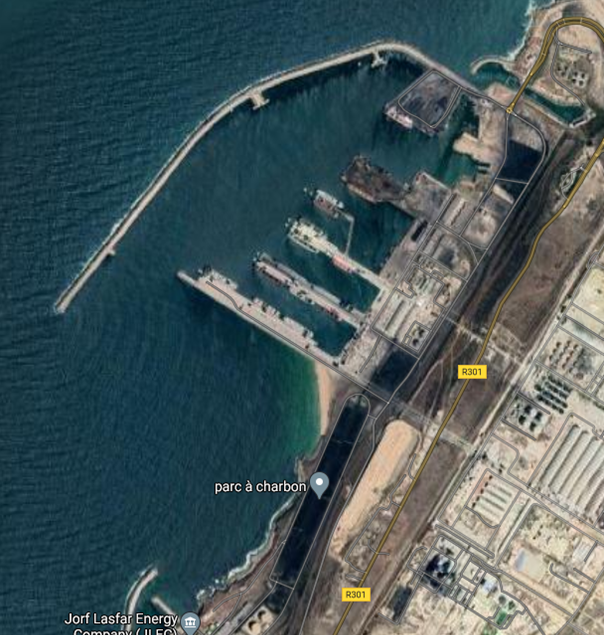 Laâyoune Port
The port of Laâyoune is the main and most versatile port of the Great South Region bringing an annual traffic of approximately 5 million tonnes of hydrocarbon imports, phosphate, and sand exports. It is also the largest fishing port in Morocco with approximately 43% from coastal fishing.
Location : 27°05'N – 13°57'O
Function : fishing and coastal navigation
Road access : National RD 1 between Laâyoune and Boujdour
Seawall : Main breakwater with a total length of 1925 LM (Linear Meter) ; Transverse breakwater with a total length of 1050 LM
Commercial Port :
Wharf No. 1 with a length of 150 LM at 6.50 meters deep for sand and hydrocarbon traffic;
Wharf No. 4 with a length of 276 LM at 6.50 meters deep for cargo and hydrocarbon traffic;
Wharf No. 2 with a length of 143 LM at 6.50 meters deep​ for cargo;
A 25 LM-wide Ro-Ro ramp;
Wharves : total of 594 LM;
Platforms
16,60 ha allocated for fishing and commercial activities.
Basin
33ha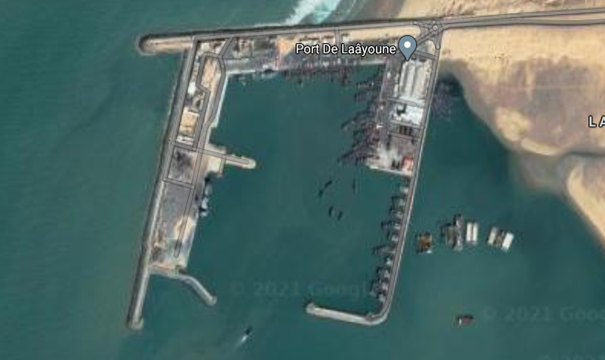 Mohammedia Port
The port can accommodate crude oil tankers (150,000 dwt class), LPG tankers (75,000 m3) and tankers of 30,000 tonnes or more of refined petroleum products for import/export.
Location : 33°43'N-7°24'O;
Function : oil port;
Road access : Casablanca – Rabat Highway, National Route 1 linking Casablanca to Rabat;
Rail connection : on the Casablanca – Rabat railway.
Basins
The port features a 750 ha single basin for the outer port.
Two basins are equipped for the inland port :
a 4 ha basin at 6 meters deep for commercial purposes ;
a 5 ha basin at 3 meters deep for fishing and boating.
Storage area and other facilities
The total storage area is 50 ha and includes :
Petroleum products depots: 37.5 ha;
Fishing zone, ship repair and administrative offices: 5 ha;
Recreational boating area: 2 ha;
Storage of protection blocks: 3 ha;
2.5 ha TIR storerooms
Hydrocarbons :
A 15000 m3 debalasting station (receiving and processing of waste oil only);
A pumping station;
A diesel rinse station;
60 000 m3 of petroleum products tanks.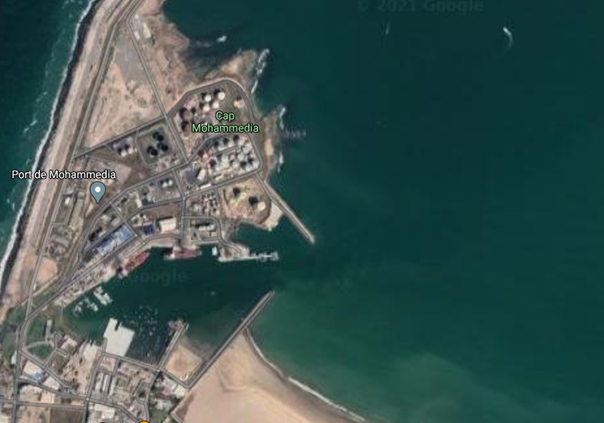 Nador Port
Location: 35 ° 17 'N – 2 ° 55' 2 ° O ;
Function: Trade, passengers, fishing ;
Road access :
The National Highway No. 39 linking al Hoceima to Melilla ;
The Oujda-Rabat Highway is located within 100 km from Nador ;
The Mediterranean ring road linking the Oriental region with the main cities of Northwest region of the country
Rail connection :
Railway between Nador and Taourirt.
The protected basin extends over a 140-hectare area and is divided into three basins.
A very deep basin located behind the dredged pier at -13 meters Below Chart Datum (BCD) ;
The central basin is dredged at -10 meters BCD ;
The South basin, largest in area, is dredged to -7.5 meters BCD.
The entrance passage is dredged at -13.50 meters BCD. Draughts in the basins vary from -5.00 to -13.50 meters BCD. The turning circle is 480 m in diameter at -13.50 meters BCD.
The surface of the storage areas is 143 hactares​.
90 hectares of storage areas outside the port (excluding customs) that include :
60 hectares reserved for the industrial area;
30 hectares: other areas;
53 hectares of bonded storage areas, including :
9 hectares for Pier I (commercial use) ;
14 hectares for Pier II (commercial use) ;
10 hectares for fishing ;
20 hectares for tourism.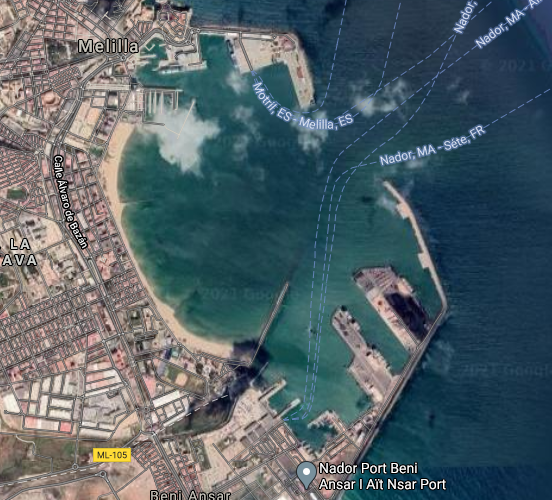 Safi port
Location : 32-18'N-9-15'O.
Vocation : Trade and fishing.
Road service :
National Road 1 connecting the Casa Agadir axis to the Marrakech Safi axis.
Rail service :
Safi-Benguerir Line.
Infrastructure :
Docking docks : 2280 linear metres.
Water drawing : between 5 and 12 m deep.
Median : 54 ha.
BASIN II : COMMERCIAL PORT – 18 HA
Phosphate wharf : 250 ml (8.50 to 9.50 m deep);
Commercial wharf : 448 ml (8.50 to 9.00 m deep);
Dock docks silos : 270 ml (8.50 to 9.50 m deep);
Pier in metal board : 124 ml (7.00 to 8.00 m deep).
25 hectares of median reserved for TIR trucks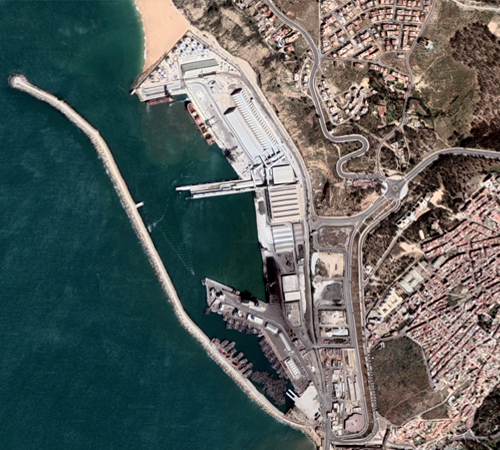 BASIN III : MINERAL PORT – 19 HA
North Wharf : 186 ml (9.50 to 11 m deep);
Shore wharf : 384 ml (10.50 to 12.00 m deep).
Shipyard : 6,450 m2 towhold (Capacity 25 units)
Earth – full
Busy median : 41 ha;
Median (extension zone) : 12 ha.
TANGIER PORTS
Tanger Ville Port
The Port of Tangier is located at the entrance of the Strait of Gibraltar, on the western edge of the harbor of Tangier, open to the northwest.
Location: 35°47'N-5°47'W
Vocation: passenger, fishing and pleasure craft
Road access: Road and highway Casablanca – Tangier – Secondary road 704 linking Tangier to Sebta
Port Tanger Med I
3 million capacity containers
1.6 km of container docks at -16 and 18 metres
2.6 km of
80 hectares of medians served by rail
4 mega-container ships of dockside capacity
2 oil stations
Passenger and roll port
7 million passengers and 700,000 TIR trucks of capacity
9 RORO posts
25 hectares of median reserved for TIR trucks
A railway station and a ferry station
Port Tanger Med II
5.2 million capacity containers
2.8 km container docks at -16 and -18 metres
4.8 km of
160 hectares of land-full fully gained on the sea
7 mega container ships of dockside capacity
2 optional oil stations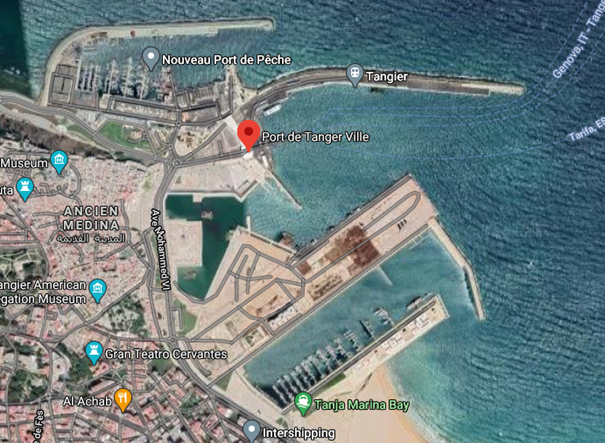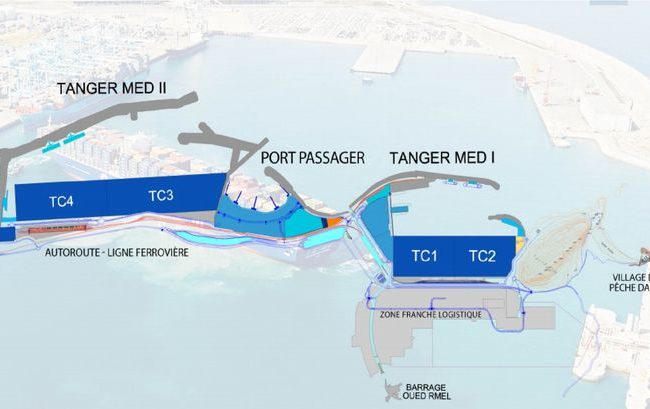 Our professional and specialized teams are ready to find you the best solution adapted to your needs.
Providing environmentally friendly customer service,
We help you with clearance of your goods,
We provide complete security.
We work for you in maritime freight, air freight, road freight, handling and logistics.
Air and sea cargo insurance,
Freight management systems
Highly efficient customs brokerage.